Personal data protection policy
Our company has set up this Policy for the protection of personal data to provide information to individuals whose personal data they collect and whose information they process in particular in relation to data which might be collected, processed and implemented, processing this data, the persons or entities to which our company discloses it and the rights that individuals have in relation to it.
This Policy falls within the context of the provisions of EU Regulation 2016/679 ("General Regulation on the Protection of Data" or "GRPD") and law no. 78-17 dated 6 January 1978 as amended relating to information technology, data and civil liberties.
1.     What data do we collect?
In the context of our activity and the functioning of our internet site we collect and process personal data relating in particular to our prospects, customers, suppliers and other commercial partners (their directors, shareholders and/or members of their staff) and the users of our internet site.
In particular this data comprises information relating to:
Identity, in particular surname, first name, gender;
Working life, in particular postal address, email address, landline and mobile phone numbers, capacity or position;
Our contractual relations in particular product orders and claims sent to our company;
Recording correspondence and communications with our company, in particular emails;
Connection data on our internet site, in particular cookies enabling the connection of information such as the type of browser, the pages consulted, language preferences and other general traffic data;
And any information provided to us via the contact form which is accessible on our internet site or, generally when communicating with our company.
2.     On what legal base do we process your data?
We collect and process personal data, as the case may be:
To execute contracts entered into with our customers or our other commercial partners or pre-contractual measures taken at their request;
For our legitimate interests such as prospecting and promotions and managing relations with our prospects, customers, suppliers and other commercial partners;
To comply with our legislative and regulatory obligations and to defend our rights;
On the basis of consent from the individuals in question.
Where the individual whose personal data we are processing is opposed to this processing we may nonetheless be authorised to complete or continue this process on one or other legal bases mentioned above.
3.     What is the purpose of us processing your data?
We collect and process personal data for the following purposes:
Saving contracts entered into with our customers;
Managing orders and deliveries;
Managing invoicing, accounting and management of customer accounts;
Managing customers' files, management and monitoring of sales relations with our customers and other commercial partners;
Creating and managing our prospects file, prospecting;
Managing newsletters and other communications of the same type;
Organising, registering and sending invitations for events;
Improving navigation and users' experience of our internet site in particular to manage statistics of audience measurement.
4.     To whom do we disclose your data?
Our company discloses or may disclose data collected to the following persons and entities:
Authorised members of our staff;
Our subcontractors, representatives and service suppliers;
Our auditors;
Control authorities (regulators), administrative authorities, courts.
We do not transfer any personal data collected outside the European Union.
In the event that we were to transfer personal data which we have collected outside the European Union we undertake, in compliance with legal provisions to ensure that (i) the country to which the transfer is made has an adequate level of protection pursuant to an Adequacy decision from the European Commission, (ii) where there is no such decision, that appropriate guarantees set out in Article 46 of the GRPD have been set up, or (iii) where there is no Adequacy decision or appropriate guarantees mentioned above that the transfer of data falls within one of the hypotheses set out in Article 49 of the GRPD.
5.     For how long will we store your data?
We store your personal data that we have collected only for the duration which is necessary for the purposes for which it has been collected in compliance with legislation in force and without prejudice to legal obligations for storage and time-barring.
In particular our customers' data is stored throughout the duration of contractual relations and for an additional period of 3 years for the purposes of promotions and prospecting.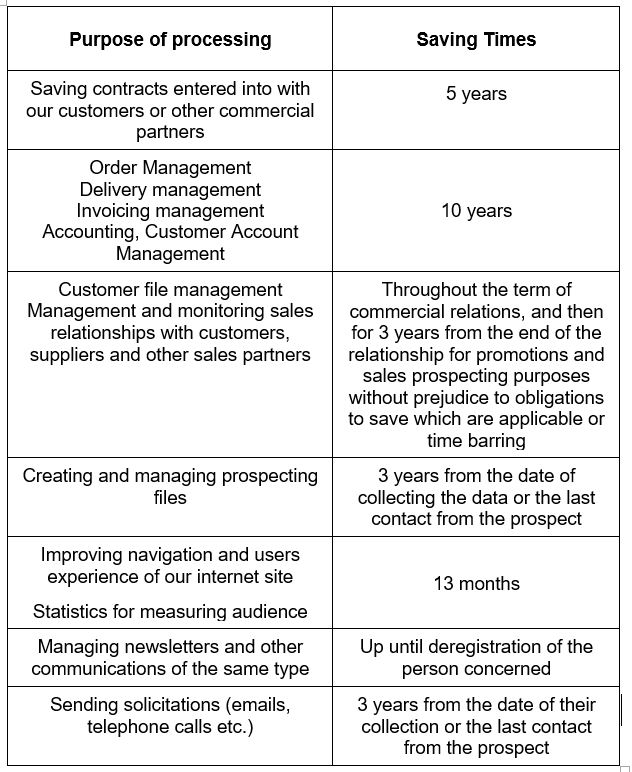 6.     How do we ensure the security of your data?
Our company implements all appropriate technical and organisational measures to ensure the security of data collected and compliance with obligations that it has under the terms of applicable legislation. Our company implements systems enabling them to guarantee the confidentiality, integrity, availability and continuing resilience of processing systems and services;
7.     What rights have the concerned persons?
Any individual whose personal data is subject to processing by our company has the following rights which are recognised by applicable legislation:
A right to access their data and to information relating to the processing to which this data is subject (Article 15 of the GRPD);
The right to correct data which is inaccurate or incomplete (Article 16 of the GRPD);
The right to delete their data (Article 17 of the GRPD);
The right to limit processing of their data (Article 18 of the GRPD);
The right to transferability of their data (Article 20 of the GRPD);
The right to oppose processing of their data (Article 21 of the GRPD);
Where data processing is based on their consent, the right to withdraw their consent at any time (Article 7.3 of the GRPD)
Any person concerned may, providing proof of their identity, exercise their rights at any time with our company by email to RGPD@evear-extraction.com, using the contact form accessible on internet site www.evear-extraction.com or by post to: EVEAR EXTRACTION – RGPD, Félines Coutures, 49320 BRISSAC LOIRE AUBANCE.
The person concerned moreover has a right to make a claim to the National Commission for Information Technology and Freedoms, the CNIL relating to the processing of their personal data (www.cnil.fr/fr/plaintes).
8.     Identity of the data controller
The data controller is EVEAR EXTRACTION SARL having a share capital of 3,000,000 Euros whose registered office is situated at Félines Coutures, 49320 BRISSAC LOIRE AUBANCE registered on the ANGERS Companies and Business Register under number 432 453 413.
Chief Executive Officer: Guillaume ROUSSELOT
Address for correspondence: address for the registered office mentioned above
Telephone number +33 (0) 2 41 57 68 81
Email Address: info@evear-extraction.com